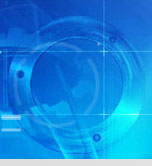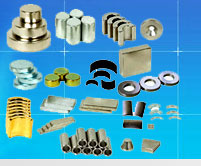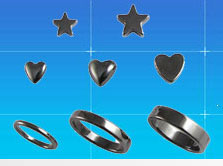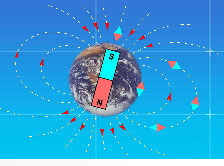 Hard Ferrite Magnet
The hard ferrite is manufactured with SrO or BaO and Fe2O3 by ceramic process. Because of its cheaper price, and production process is relatively simple, compared with the prices of their products relatively cheap in terms of other magnets. The main raw materials of ferrite magnets is oxide, so, it could not be eroded due to the impact of chemical substances or the environment (except for acid). Therefore, the surface does not need electroplating treatment. It is mainly used in handicrafts, drawing annex, toys, motor, loud speakers.
Sintered Ferrite Magnets
Hard ferrite magnets are manufactured by a die pressing followed by sintering process which allows economic production of components in a varied array of sizes and shapes. Ferrite magnets have excellent corrosion resistance and have normal operating capabilities between -40 oC and +250 oC.
Magnetic Properties of Sintered Ferrite Magnets
National standard
Grade
Value
Br
Hcb(BHC)
Hcj(IHC)
(BH)max
mT
KG
KA/m
KOe
KA/m
KOe
Kj/m3
MGOe
Y10T(=C1)
200/218
2.00/2.18
125/145
1.57/1.82
210/250
2.64/3.14
6.5/8.0
0.8/1.0
Y25
360/370
3.60/3.70
135/150
1.70/1.88
140/170
1.76/2.14
22.5/25.3
2.8/3.2
Y30(=C5)
380/385
3.80/3.85
191/210
2.40/2.64
199/220
2.50/2.51
26.0/28
3.4/3.7
Y30BH
380/390
3.80/3.90
223/235
2.80/2.95
231/245
2.90/3.08
27.0/30.0
3.4/3.7
Y33
410/420
4.10/4.20
220/235
2.77/2.95
225/240
2.83/3.01
31.5/33.0
4.0/4.2
Y35
400/410
4.00/4.10
175/195
2.20/2.45
180/200
2.26/2.51
30.0/32.0
3.8/4.0
C8(=C8A)
385/390
3.85/3.90
235/255
2.95/3.20
242/265
3.05/3.33
27.8/30.0
3.5/3.7
C10
400/410
4.00/4.10
288/300
3.62/3.77
280/287
3.51/3.60
30.4/31.9
3.8/4.0
Chinese standard
Material
Br
HcB
HcJ
(BH)max
mT
KG
KA/m
Oe
KA/m
Oe
Kj/m3
MGOe
Y8T
200~235
≥2000
125~160
≥1570
210~280
≥2610
6.5~9.5
≥0.8
Y22H
310~360
≥3100
220~250
≥2770
280~320
≥3520
20.0~24.0
≥2.5
Y25
360~400
≥3600
135~170
≥1700
140~200
≥1760
22.5~28.0
≥2.8
Y26H-1
360~390
≥3600
220~250
≥2512
225~255
≥2830
23.0~28.0
≥2.9
Y26H-2
360-380
≥3600
263-288
≥3300
318-350
≥4000
24.0-28.0
≥3.0
Y27H
370~400
≥3500
225-240
≥2830
235-260
≥2950
25.0~29.0
≥3.1
Y28
370-400
≥3700
175-210
≥2200
180-220
≥2260
26.0-30.0
≥3.3
Y28H-1
380-400
≥3800
240-260
≥3020
250-280
≥3140
27.0-30.0
≥3.1
Y28H-2
360-380
≥3600
271-295
≥3400
382-405
≥1800
26.0-30.0
≥3.3
Y30
370~400
3.7~4.0
175~210
2.20~2.64
180~220
2.26~2.77
26.0~30.0
3.3~3.8
Y30H-1
380~400
≥3800
230-275
≥2890
235-290
≥2950
27.0~32.5
≥3.4
Y30H-2
395-415
≥3950
275-300
≥3460
310-335
≥3900
27.0~32.0
≥3.4
Y32
400~420
≥4000
160~190
≥2010
165~195
≥2070
30.0~33.5
≥3.8
Y32H-1
400-420
≥4000
190-230
≥2390
230-250
≥2890
34.5-35.0
≥4.0
Y32H-2
400-440
≥4000
224-240
≥2810
230-250
≥2890
31.0-34.0
≥3.9
Y33
410~430
≥4100
220~250
≥2760
225~255
≥2830
31.5~35.0
≥4.0
Y33H
410-430
≥4100
250-270
≥3140
250-275
≥3140
31.5-35.0
≥4.0
Y34
420-440
≥4200
200-230
≥2510
205-235
≥2580
32.5-36.0
≥4.1
Y35
430-450
≥4300
215-239
≥2700
217-242
≥2730
33.1-33.2
≥4.2
Y36
440-450
≥4400
247-271
≥3100
250-374
≥4400
35.1-38.3
≥4.4
Y38
440-460
≥4400
285-305
≥3580
294-310
≥3690
36.6-40.6
≥4.6
Y40
450-460
≥4500
330-354
≥4150
340-360
≥4270
37.6-41.8
≥4.7
USA standard
Material
Br
HcB
HcJ
(BH)max
mT
KG
KA/m
KOe
KA/e
KOe
kj/m3
MGOe
C1
230
2.3
148
1.86
258
3.5
8.36
1.05
C5
380
3.8
191
2.4
199
2.5
27
3.4
C7
340
3.4
258
3.23
318
4.00
21.9
2.75
C8(=C8A)
385
3.85
235
2.95
242
3.05
27.8
3.5
C8B
420
4.2
232
2.913
236
2.96
32.8
4.12
C9
380
3.8
280
3.516
320
4.01
26.4
3.32
C10
400
4.0
288
3.617
280
3.51
30.4
3.82
C11
430
4.3
200
2.512
204
2.56
34.4
4.32
Europe standard
The standard from International Electronics Committee(IEC404-8-1)
Grade
Allowed Value (min/typical)
Br
Hcb(BHC)
Hcj(IHC)
(BH)max
MT
KG
KA/m
KOe
KA/m
KOe
Kj/m3
MGOe
HF8/22
200/220
2.00/2.20
125/140
1.57/1.76
220/230
2.76/2.89
6.5/6.8
0.8/1.1
HF20/19
320/333
3.20/3.33
170/190
2.14/2.39
190/200
2.39/2.51
20.0/21.0
2.5/2.7
HF20/28
310/325
3.10/3.25
220/230
2.76/2.89
280/290
3.52/3.64
20.0/21.0
2.5/2.7
HF22/30
350/365
3.50/3.65
255/265
3.20/3.33
290/300
3.64/3.77
22.0/23.5
2.8/3.0
HF24/16
350/365
3.50/3.65
155/175
1.95/2.20
160/180
2.01/2.26
24.0/25.5
3.0/3.2
HF24/23
350/365
3.50/3.65
220/230
2.76/2.89
230/240
2.89/3.01
24.0/25.5
3.0/3.2
HF24/35
360/370
3.60/3.70
260/270
3.27/3.39
350/360
4.40/4.52
24.0/25.5
3.0/3.2
HF26/16
370/380
3.70/3.80
155/175
1.95/2.20
160/180
2.01/2.26
26.0/27.0
3.2/3.4
HF26/18
370/380
3.70/3.80
175/190
2.20/2.39
180/190
2.26/2.39
26.0/27.0
3.3/3.4
HF26/24
370/380
3.70/3.80
230/240
2.89/3.01
240/250
3.01/3.14
26.0/27.0
3.3/3.4
HF26/26
370/380
3.70/3.80
230/240
2.89/3.01
260/270
3.27/3.39
26.0/27.0
3.3/3.4
HF26/30
385/395
3.85/3.95
260/270
3.27/3.39
300/310
3.77/3.89
26.0/27.0
3.3/3.4
HF28/26
385/395
3.85/3.95
250/265
3.14/3.33
260/275
3.27/3.45
28.0/30.0
3.5/3.8
HF28/28
385/395
3.85/3.95
260/270
3.27/3.39
280/290
3.50/3.60
28.0/30.0
3.5/3.8
HF30/26
395/405
3.95/4.05
250/260
3.14/3.33
260/270
3.27/3.39
30.0/31.5
3.8/3.9
HF32/17
410/420
4.10/4.20
160/180
2.01/2.26
165/175
2.07/2.20
32.0/33.0
4.0/4.1
HF32/22
410/420
4.10/4.20
215/225
2.70/2.83
220/230
2.76/2.89
32.0/33.0
4.0/4.1
HF32/25
410/420
4.10/4.20
240/250
3.01/3.14
250/260
3.14/3.27
32.0/33.0
4.0/4.1
Japan TDK standard
Grade
Composition
Br
Hcb
Hcj
BH max
mT
kG
kA/m
kOe
kA/m
kOe
KJ/m3
MGOe

FB40

SrO6Fe2O3

410+/-10

4.1+/-10

234.8+/-11.9

2.95+/-0.15

238.7+/-15.9

3.0+/-0.2

31.4+/-1.6

3.95+/-0.2

FB3N

SrO6Fe2O3

395+/-15

3.95+/-15

234.8+/-11.9

2.95+/-0.15

238.7+/-15.9

3.0+/-0.2

28.7+/-2.4

3.6+/-0.3

FB3G

SrO6Fe2O3

375+/-15

3.75+/-15

254.6+/-15.9

3.2+/-0.2

270.6+/-19.9

3.4+/-0.25

25.9+/-2.4

3.25+/-0.3

FB3X

SrO6Fe2O3

375+/-15

3.75+/-15

234.8+/-11.9

2.95+/-0.15

238.7+/-15.9

3.0+/-0.2

25.9+/-2.4

3.25+/-0.3

FB1A

SrO6Fe2O3

220+/-15

2.20+/-15

159.2+/-15.9

2.0+/-0.2

258.6+/-19.9

3.25+/-0.25

8.9+/-1.6

1.1+/-0.2

FB5H

SrO6Fe2O3

405+/-15

4.05+/-15

298.4+/-11.9

3.75+/-0.15

322.3+/-11.9

4.05+/-0.15

31.1+/-1.6

3.9+/-0.2

FB4X

SrO6Fe2O3

420+/-10

4.20+/-10

234.8+/-11.9

2.95+/-0.15

238.7+/-15.9

3.0+/-0.2

33.4+/-1.6

4.2+/-0.2

FB4B

SrO6Fe2O3

400+/-10

4.00+/-10

254.6+/-11.9

3.2+/-0.2

262.6+/-19.9

3.3+/-0.25

30.3+/-1.6

3.8+/-0.2

FB4A

SrO/
BaO6Fe2O3

410+/-10

4.10+/-10

175.1+/-15.9

2.2+/-0.2

176.7+/-15.9

2.22+/-0.2

31.8+/-1.6

4.0+/-0.2

FBGN

SrO6Fe2O3

440+/-10

4.40+/-10

258.6+/-11.9

3.25+/-0.15

262.6+/-11.9

3.3+/-0.15

36.7+/-1.6

4.6+/-0.2

FB6B

SrO6Fe2O3

420+/-10

4.20+/-10

302.4+/-11.9

3.8+/-0.15

318.3+/-11.9

4.0+/-0.15

33.4+/-1.6

4.2+/-0.2

FB6H

SrO6Fe2O3

400+/-10

4.00+/-10

302.4+/-11.9

3.8+/-0.15

358.1+/-11.9

4.5+/-0.15

30.3+/-1.6

3.8+/-0.2

FB6E

SrO6Fe2O3

380+/-10

3.80+/-10

290.5+/-11.9

3.65+/-0.15

393.9+/-11.9

4.95+/-0.15

27.5+/-1.6

3.45+/-0.2

FB5N

SrO6Fe2O3

440+/-10

4.40+/-10

256.8+/-11.9

2.85+/-0.15

2259.2+/-11.9

2.88+/-0.15

36.7+/-1.6

4.6+/-0.2

FB5B

SrO6Fe2O3

420+/-10

4.20+/-10

262.6+/-11.9

3.3+/-0.15

266.6+/-11.9

3.35+/-0.15

33.4+/-1.6

4.2+/-0.2
Physical Characteristics
| | |
| --- | --- |
| Compressive Strength | 1.4 x 104 kg/cm2 |
| Required Magnetizing Field | 12,000 - 15,000 Oe |
| Electrical Resistivity | > 104 ¦̀-ohm-cm/cm2 |
| Density | 4.7-5.0 g/cm3 |
| Recoil Permeability | 1.05 ¦̀r |
| Rev. Temp. Coeff. | -0.20 %/¡ăC |